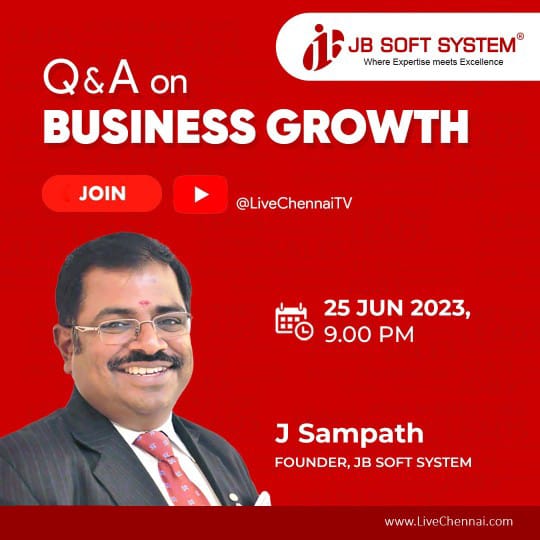 J Sampath, CEO of JB Soft System, recently participated in a live Q&A session on the LiveChennai YouTube channel. The session took place on June 25th, Sunday, at 9 PM, where participants had the opportunity to discuss various topics related to business, technology, and career opportunities.
During the interactive session, J Sampath shared valuable insights and expertise on subjects such as leads generation, sales strategies, exploring business opportunities, effective marketing techniques, leveraging technology for growth, job prospects, team management, training initiatives, consulting services, and the importance of building connections.
As the CEO of JB Soft System, J Sampath brought his extensive experience to the discussion, providing participants with valuable guidance and advice. The session proved to be an enriching experience for budding entrepreneurs, business enthusiasts, job seekers, and individuals interested in gaining a deeper understanding of the business and technology landscape.
The LiveChennai YouTube channel served as the platform for this engaging Q&A session, allowing participants to directly interact with J Sampath and benefit from his industry knowledge.
By participating in this live Q&A session, viewers gained valuable insights, received answers to their burning questions, and gained valuable advice on navigating the ever-evolving business landscape successfully.
Overall, the live Q&A session with J Sampath proved to be a beneficial and enlightening experience for all participants.