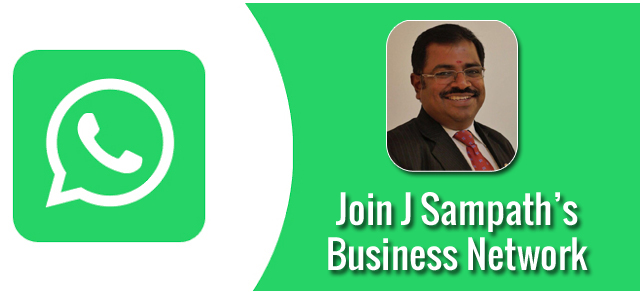 Greetings from J Sampath, CEO of JB Soft System.
We all know many Good Business people…
Let all Business people come together and do more Business and do more Good to the world…
Yes, thats the OBJECTIVE,
Join J Sampath`s Business Network and do more Business and do more Good to the world…
You will be getting
Referrals
New Customers
Part time, Full time Manpower
Business Tips
Digital Marketing Tips
CRM Tips
Data Security Tips
All you need to do is to Join in this WhatsApp Group…
Please be noted you will only receive message in this group, any message you want to post, you have to send to 9840279047, in turn we will post 3 message per day by queing the messages.
So you will be getting maximum 3 messages, useful, profitable, relevant messages ONLY.
You WILL NOT GET ANY FORWARDS, UNRELEVANT MESSAGES.
So, Get ready, Join the Network, You will grow in multi fold…
Its not just our words, My commitment towards your vision.
Come Lets do the most and more !
Join now : https://chat.whatsapp.com/IIzPOabqvJzGqeDyvq2lNv

NB : All rights reserved, Accepting / Not accepting / Removing any member from the
group is sole discretion of  J Sampath.